The campaign for recycling aluminum cans in smart presses was launched today with the aim of increasing citizen participation in recycling and environmental protection, within the scope of the develePPP.de development partnership program with the private sector. The campaign is supported by the German Development Cooperation which is implemented by Deutsche Gesellschaft für Internationale Zusammenarbeit (GIZ) GmbH within the "Smart system for can collection in cities" project, and is jointly financed by the German Federal Ministry for Economic Cooperation (BMZ) and companies Ball Packaging Europe, Mercator – S and Solagro. The first smart press was launched in an IDEA Organic store in Kralja Petra Street in Belgrade. Citizens who choose to recycle cans in these smart devices will have an opportunity to earn discounts at IDEA stores through the Solagro app, while the most successful recyclers will be awarded.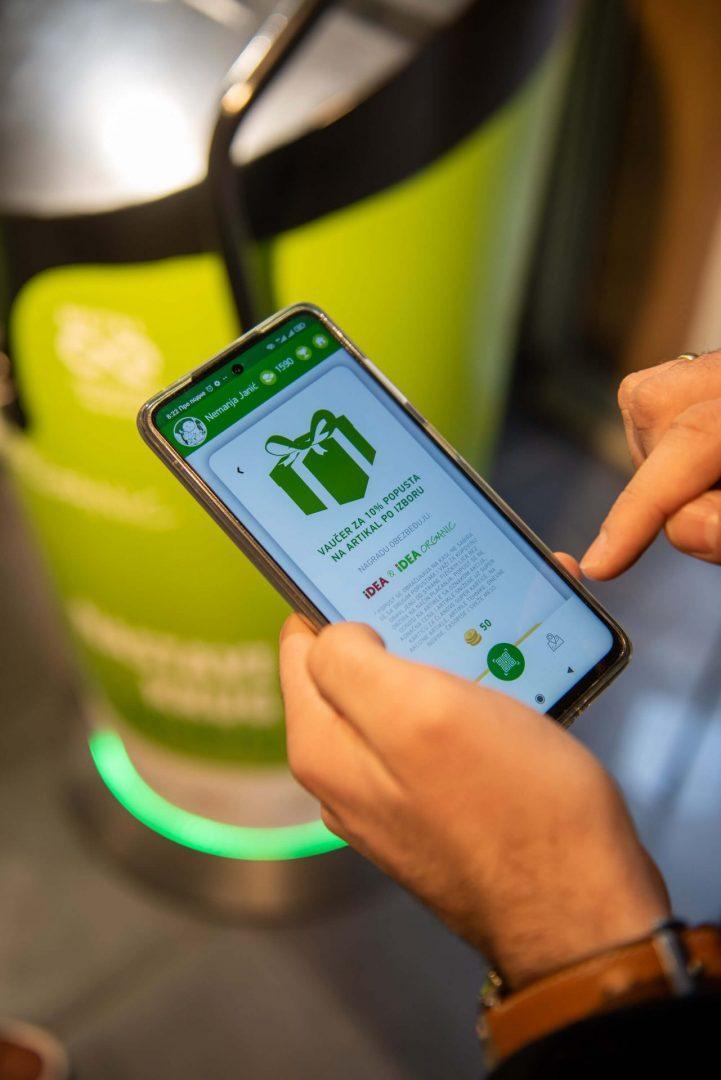 The first smart press in Belgrade was launched in the presence of Belgrade's City Sectretary for Environmental Protection, Ivana Vilotijevic, who emphasised that this is an important step in the process of transforming the Serbian Capital into an ecologically sustainable community. "It is our wish for Belgrade to become known as the capital that prioritizes the preservation of the environment and thus improves the lives of its citizens. Projects such as this give an important contribution to achieving our goals and we applaud the initiative of the business sector to take an active role in caring about the ecological sustainability of the community in which it operates. We hope that our fellow citizens will quickly develop the habit of using this press and in a simple and effective way contribute to Belgrade being even cleaner. "
Violeta Kovačević, CEO of Mercator – S pointed out that retail chains have a great responsibility in enticing the consumers to recycle. "We are very proud that the first smart press in Belgrade is installed at the IDEA Organic store, as the very concept of our store promotes values of a world that has a future, which means healthier life and cleaner environment. The project envisions the installment of smart presses at 10 locations in Belgrade. We wish to provide our fellow citizens with an easy way to engage in recycling. Our vision of a sustainable business is based on great care for the environment and we invest great effort and significant resources to ensure a clean future for the coming generations."
Jelena Kiš, Manager for Sustainability and Regulatory Affairs for Central and Eastern Europe for Ball Packaging Europe explained that sustainability is one of the main priorities for the company "The process of recycling should begin during the production of packaging – the producers themselves have the responsibility to make packaging as easy as possible to recycle. Our company continually develops its expertise and technology of easy-to-recycle aluminium cans. This way, we enable other participants in the recycling chain to make the reusing of resources a regular part of their practice. Environmental sustainability is a goal that cannot be achieved by an individual alone, and not just one company – this is the goal that requires the cooperation of many actors at different levels and by our example and business practice we try to encourage others to get involved."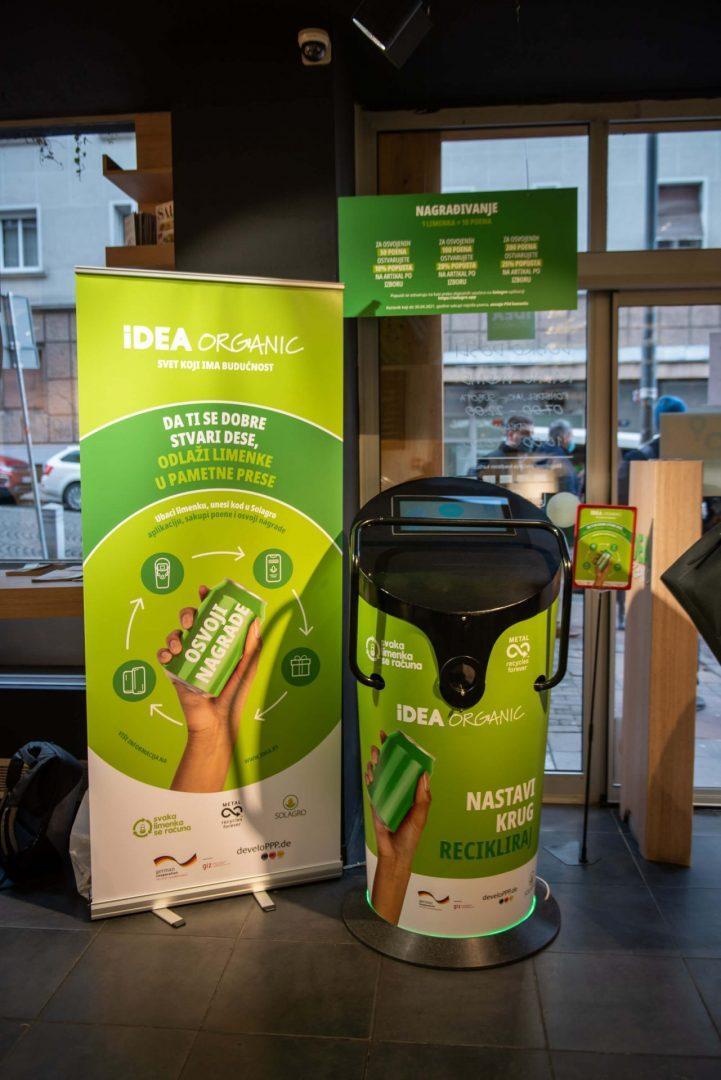 Nemanja Janić, one of the founders and the CEO of Solagro Smart Recycling, a company responsible for the innovative can-recycling system presented in more details the way this system works. "This is the first smart system for recycling packaging waste in the region that is fully developed by a domestic start-up company Solagro. It is developed to be put in a supermarket and it has elements of game and data analysis of materials implemented in itself. This way, we show that young, innovative companies in Serbia are not just following, but also setting new technologies and trends in recycling". Janić also expressed gratitude towards project partners for the opportunity to launch this system in Belgrade.
Daniela Funke, Director of the GIZ in Serbia stated that this project links multiple aspects in which German Development Cooperation provides continuous support. "It is a great pleasure to jointly create new digital solutions for environmental protection in cooperation with the private sector and contribute to the sustainable development in Serbia and the Western Balkans through encouraging innovation from young experts and start-up companies".
Aluminum cans are 100% recyclable and as such represent the most sustainable type of packaging. Since they can be endlessly recycled without loss of quality, the process of their recycling is a closed-loop and brings great savings, while at the same time significantly reducing the environmental pollution. The energy saved by recycling four aluminum beverage cans can run a washing machine for an hour, while one recycled can saves enough energy to run a TV for three hours. Recycling cans reduces the consumption of natural resources, as well as the amount of waste in landfills.